SARIA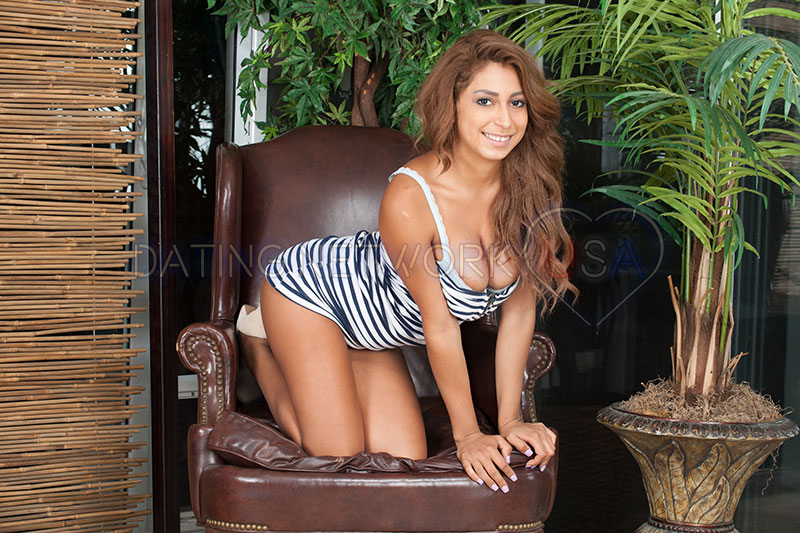 About Me:
Nationality: Hispanic
Birthday: 02-11-1996
Hair Color: Brown Curly
Eye Color: Brown
Bust: 36C
Height: 5'3″
Favorite Things: I love DANCING, Im a sucker for a sense of humor, and turquoise stones.
Well, you made it to the right place! I guess you liked what you saw and want to find out more about me. That thrills me and I'm glad to share! I am 22 years old and one of the most fun-loving gals you will probably ever meet. I love going out and partying and if you are into that kind of thing, then bringing me with you will enhance the experience by far. Dancing is my specialty and I am sure you'd like to see this perky body bouncing around on the floor, wouldn't you?
I'm completely fun-loving. I try to make the most of any type of situation. There is always something to be learned. Because of this, you will find our time together light-hearted and completely relax. There is no other way to have a date. Stress should not be included in any circumstance!
In addition to going out, I offer the closeness of myself as a companion. I love hugging and touching. This part is the absolute best. I will be thinking about it from the time I meet you and I'm pretty sure you'll be anticipating it too. Do you want to find out more? Call me and we can chat or send me an email if you have questions. I'm looking forward to setting up a personal date with you, so please don't make me wait long!